336-855-8500
Greensboro, North Carolina
Pino's vast repertoire of works are being exhibited in select galleries throughout the United States and are highly sought-after by collectors around the world.
The Art Shop of Greensboro, North Carolina, is one of his most enthusiastic supporters and devotes a large portion of its gallery and its website to display his works.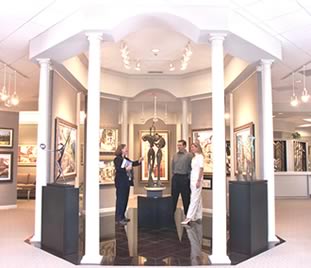 Established in 1899, The Art Shop is the state's oldest fine art and custom framing gallery. The Art Shop specializes in original oil paintings and limited edition graphics as well as bronze sculptures. The gallery's current roster of artists includes internationally known artists.
The Art Shop is also known for its award-winning custom framing. Their framing staff includes two CPF (certified picture framers) with over 70 years of combined experience.
You are invited to Visit Their Website and enjoy their exciting collection of art.